Who should use this feature?
The archiving applications feature has been introduced to allow elegant management of applications for programs that cannot use seasons or where seasons are not applicable. Some examples:
Chapters with overlapping rounds leading to the program being active all year round with no opportunity to start a fresh season
Application and reviewing rounds open perpetually without a clean end
For some grant programs, seasons may not be relevant at all
The archiving feature provides a way to 'tidy up' the Applications view in the Manage workspace or to prevent applicants from editing previously submitted applications.
Archiving applications is different from deleting applications. Archived applications can still be viewed and edited by program managers. They can even be sent through to reviewing rounds (aka assessment) if required.
Tip: it is not required that to use the archive applications feature; archiving a season effectively archives applications along with everything else for the season.
How to archive applications
From the Manage workspace, go to Applications
Select one or more applications from the list using the checkboxes on the left
Open the Action dropdown
Click Archive


Note: archived applications are included in the dashboard tallies for in-progress and submitted applications as they are still considered to 'exist' (as opposed to being deleted).
Viewing archived applications
The drop-down at the top of the Applications views in both the Manage and Apply workspaces allows you to toggle between Current, Archived, Deleted, and Grants views.
You can view archived applications by selecting Archived in the drop-down to the right of the season selector at the top of the page.

If you want to unarchive applications, you can select one or more applications and click the Unarchive button housed in the Action dropdown button on the 'Archived' list view.
To delete an archived entry, click the ellipsis (three dots) next to the entry and select Delete.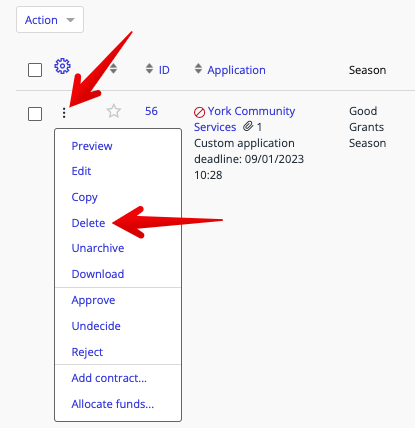 Reviewing archived applications
If you would like to include archived applications in a reviewing round, there's an option in the panel to include archived applications.
In the Manage workspace, go to Reviewing > Panels
Create a new panel or edit an existing one
Under the Applications heading, select Include archived applications


Save
When creating manual assignments, archived applications are excluded from search results. You will need to use panels to create reviewing assignments for archived applications.
Important: if you make changes to fields, tabs, categories, or chapters, this will impact archived applications. For this reason, we recommend not deleting fields. Instead, remove the Read and Write options in the Access section of the field.