Automated tagging allows you to automatically add tags to applications based on triggers, or events, such as application submission, application duplicate confirmed, or action stage started. Multiple tags can be added at the same time and in bulk to many entries at once.
Important: tags may contain sensitive information and are not shown to reviewers or applicants. They are purely a management tool.
How do I auto-tag an application?
Automatically adding a tag to applications based on events is easy to setup. Here's how...
Go to Settings > Tags
Create a new tag and give it a name or click on an existing tag you want to automatically add to applications
In the 'Automatically apply tag when' list, select the action/event you want. This will be the event that will trigger the action of applying the tag to applications when the event happens
Click Save.
Based on the auto-tag you have just set up, the tag will be automatically added to any application when the selected event occurs.
Example: the following configuration will add the tag whenever any application is manually archived by a grant manager or chapter manager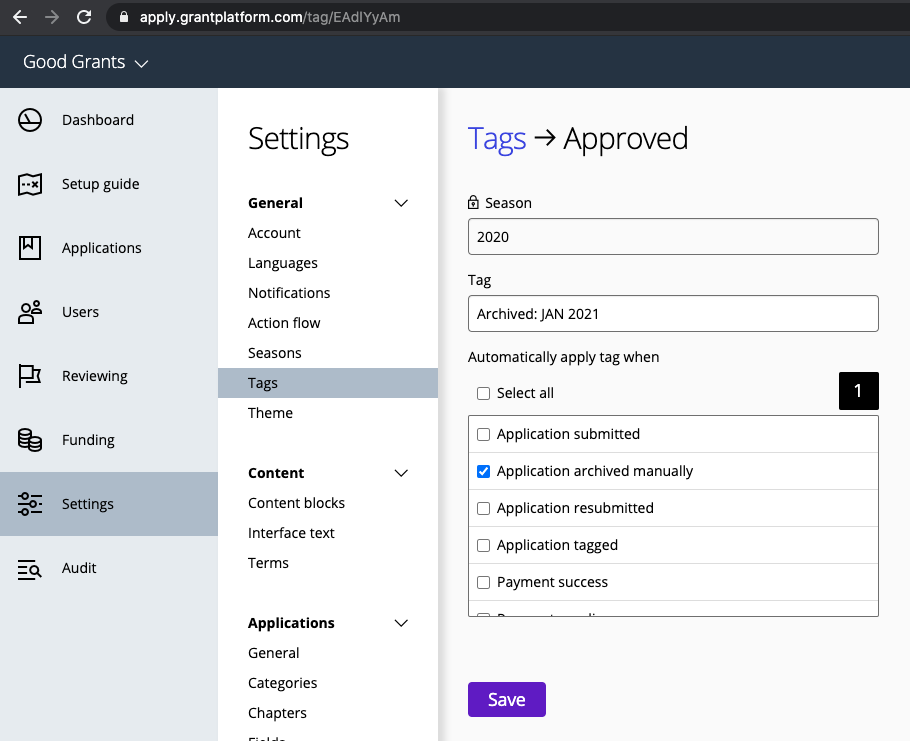 Actions
These are the events that will automatically add a tag to applications when they occur.
Application submitted
The action of an application being successfully submitted
Application archived manually
The action of an application being manually archived
Application resubmitted
The action of an application being resubmitted
Application tagged
The action of an application being tagged
Payment success
The action of an application being successfully paid for
Payment pending
The action of an application going through the payment processes but not paid for (i.e. Option to pay via an invoice, outside of the platform)
Action stage
One of three possible actions from an action stage task:
The event of an action stage starting
The event of a reviewer clicking the 'Proceed' button in the action stage
The event of a reviewer clicking the 'Stop' button in the action stage
Application moderated
The event of an approved moderation
The event of a rejected moderation
The event of an undecided moderation
Application duplicate confirmed
One of two possible actions as a result of identifying duplicate applications
The event of identifying an application as the primary application
The event of identifying an application as the secondary application + archiving
Assignment completed
Reviewing assignment completed by score set selected