Go to Applications > Manage applications (or just 'My applications' for applicants)
Select the checkbox next to the application(s) you want to copy
Within the Action dropdown box, click Copy

Note: Applicants do not have an 'Action' dropdown box, rather they will see a 'Copy' button situated next to the 'Start application' button instead.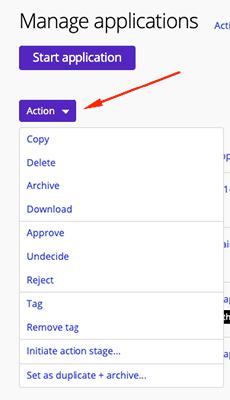 Each copied application will have '(copy)' appended to the application name. To remove it, click on the application name, then Edit application, remove it from the Application name field and then Save + close.
Note: All copied applications will have the status of 'in progress', even if the originating application was submitted.
Applicants can create a copy too unless the option is switched off from Settings > Applications General