Good Grants offers multiple account configuration options, found under Settings > General. Below are some basic ones to get started on your program.
Account name and URL
Under Settings > General > Account, you can change the account name (this appears in the top bar of your platform)

You can change your program URL, set up a vanity URL or a custom URL too (custom URL is available on the Premium plan only)
Add multiple languages
Good Grants supports 20+ languages and these can be activated from Settings > General > Languages
(multiple languages can be added to the Premium plan only. Intro plan can apply any 1 of 20 languages).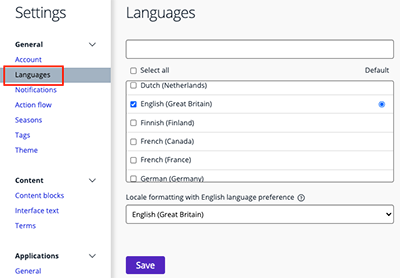 Turn on/off the registration form
You have the option to turn on or off the registration form on the homepage.
Turning off home page registration prevents new users from registering an account and only allows existing users to log in. For example, you might like to turn off the registration form when your review stage starts or between application periods.
To turn on/off the registration form:
Go to Settings > Users > Registration
Select/deselect Home page registration is open
Click Save
GDPR settings
You can enable explicit cookie consent and/or seek consent to communicate with your applicants. These options can be found under Settings > Users > Registration