Action flow configuration
For each action stage, you will be configuring who takes the action, managed by defining who the recipient of the initial action notification is sent to. You will also design the action forms by selecting which fields are displayed and editable to the user. Options are also available for you to display informational content about the action to the user which may include instructions, support information and the consequences of clicking either the Proceed or Stop action buttons.
Step one: create an action flow stage
Go to Settings > General > Action flow
Create a New action stage
Give the action stage a name (this is for internal reference only, name it based on its purpose (i.e. Manager approval, Internal vetting, etc...)
Select whether the action stage is a task for a named user to complete or triggering a notification



Important: to comply with local laws, SMS notifications cannot be sent to UAE residents between the hours of 9pm and 7am.

Choose a Start stage option; this controls how the action stage is triggered



Stage is started by application submission will trigger the action flow to begin as soon as the applicant submits their application.
Started by another stage allows you to piggyback multiple actions onto one another.
Not selecting an option means that the action stage must be initiated manually.

Choose whether the action is to be conducted by a manager, or by a person nominated in the application (i.e. 3rd party person)



For action by manager(s), check all the managers who should be given the task.


Note: if more than one manager is tasked, only one needs to complete it— once one manager has finished, it is then locked and another manager cannot change it. If you require e.g. two managers to take action, then set up two action stages sequentially (alternatively, you may consider a qualifying assessment stage instead).

For action by a person nominated in the application form, a name field and a recipient address field are required in the application fields


Note:

the recipient address field may be added as any of the following

field types

: email, phone number (for mobile numbers only), or a drop-down or radio button field in which the field's value is a valid email address or mobile number.

Note:

if you have multiple people involved with action flow stages, consider also using

auto-tags

. You can apply a specific tag to applications based on the decision made during each action stage. This will assist you, greatly, with management tasks such as searching for applications, analysis activities and on-going follow-up activities.

If you have a notification prepared for this action stage already, select it under Send stage start notification

— otherwise leave it blank and you can come back and

add it later.

If the action is an internal task, such as by grant managers, you can choose not to send a notification as managers can access all requests via Manage actions

or

Action applications

from the main menu, however, no notification means no one is notified, therefore, grant managers will need to periodically visit the '

Manage actions

' view to see if there are any new actions requiring attention.



Step two: configure what the reviewer gets to see
On the Action page tab, select which fields to show to the user/reviewer. Field access is a list of all application fields in order of appearance (tab then field order).
Fields marked as 'Read' will be visible to the task recipient.
Fields marked as 'Write' will be editable by the task recipient.
Fields marked as 'Required' must have input whether this be by the task recipient or the original applicant.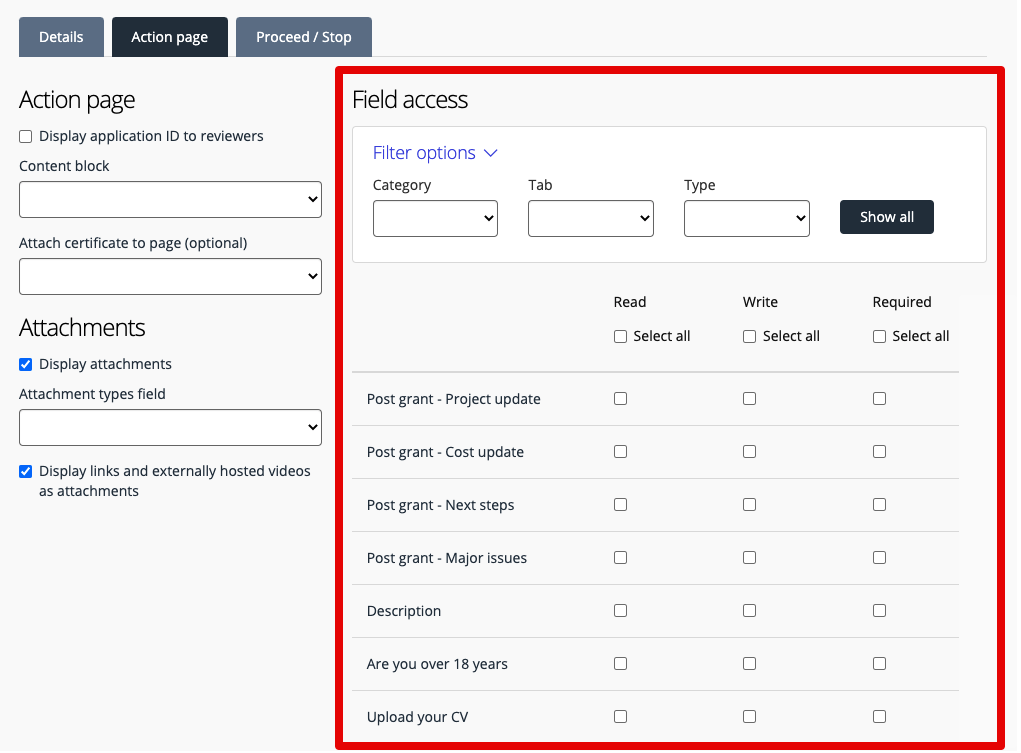 Tip:
should you wish to consolidate all of your action flow fields into one location, create a new tab and hide it from applicants. To learn how, check out the 'Hiding tabs from applicants' section of this guide:
Tab configuration
.
Important: in the event that your program utilises action flow for multiple stages, it is not recommended that fields be recycled. For example, if applicants are asked to state their progress on a project, it is important that the same progress field not be used in multiple action stages as doing so will rewrite the data collected each time. You can copy your fields in bulk via Settings > Applications > Fields to prevent this.
Important: conditional fields cannot be used in action flows.
If you have informative and/or instructional content already prepared in a content block with the location 'Action flow page' for this stage, select it from the Content block dropdown list— otherwise, leave it blank and you can come back and add it later. For instructions on creating a content block, see our dedicated guide.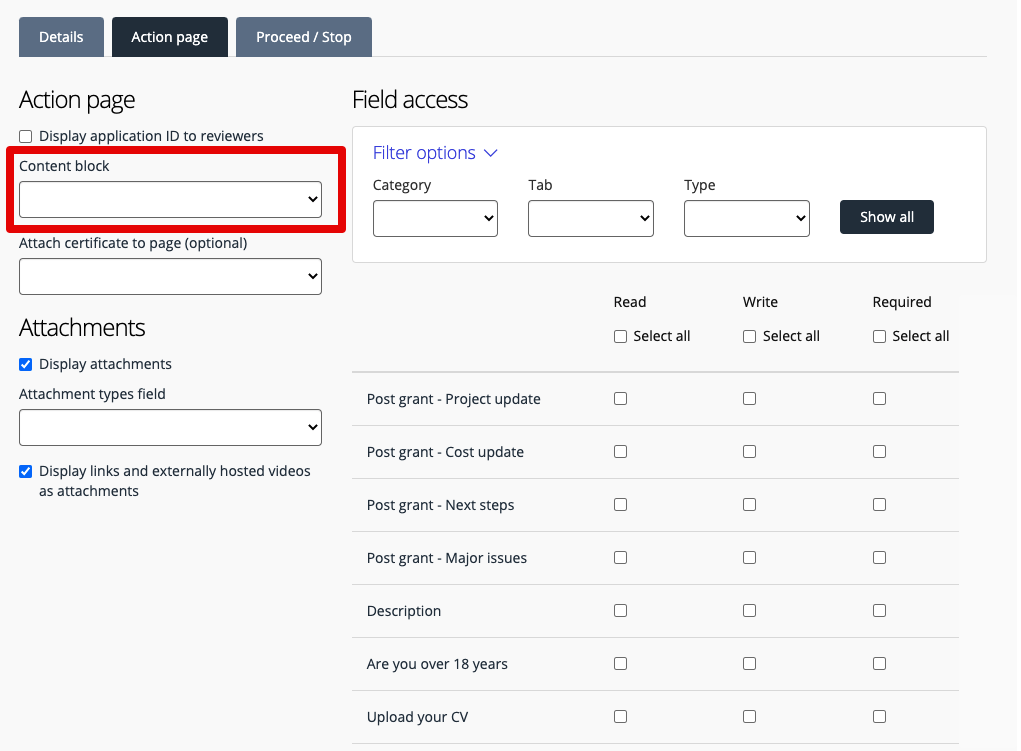 Step three: configure the 'Proceed' and 'Stop' action buttons
On the Proceed/Stop tab, add the button labels for the Proceed action and Stop action buttons, these are the text-based names applied to the buttons and seen by the end-user/reviewer. The Process status and Stop status is required, too, you will need to complete the status fields before the system will let you save.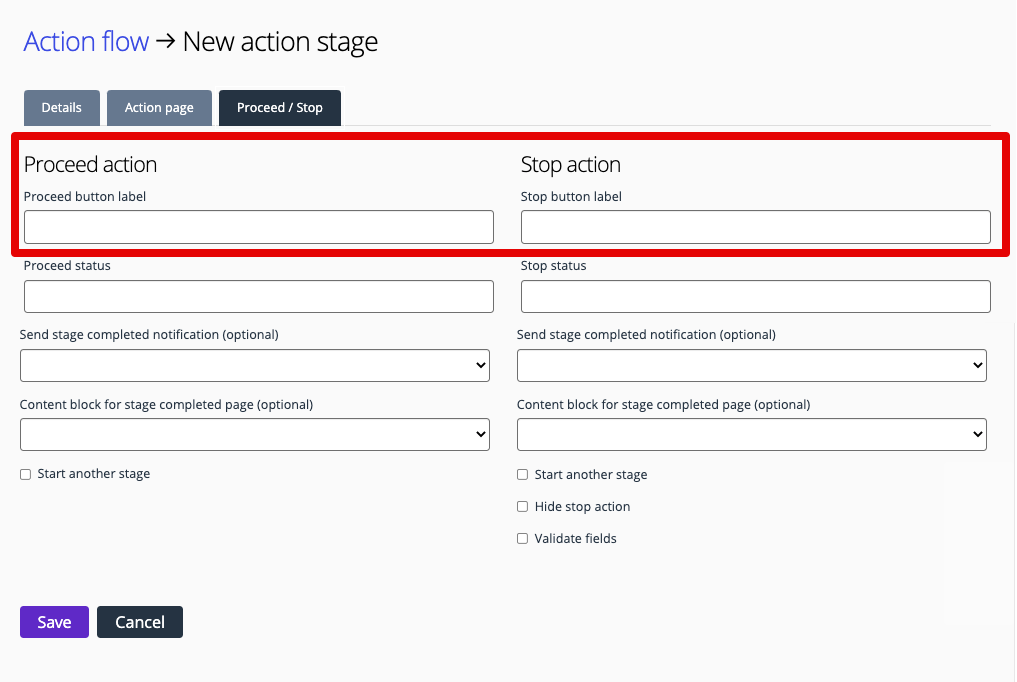 Note: the proceed and stop buttons that a user will interact with are green and red, respectively. The colours of these buttons cannot be updated.
The Proceed status and Stop status are used to help you find and manage the decisions as applied by the end-user/reviewer. Make sure each action stage you create has unique Proceed and Stop status values.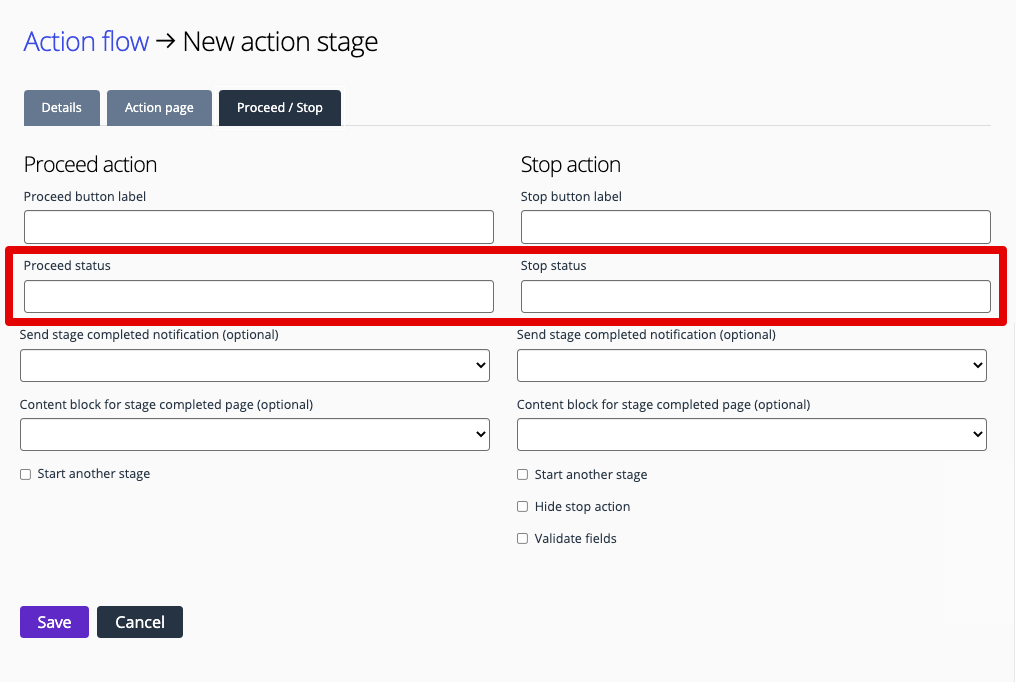 The Hide stop action will prevent a user from seeing or interacting with the stop action button, requiring them to proceed
The Validate fields will verify that all fields have been completed correctly if the user selects the stop action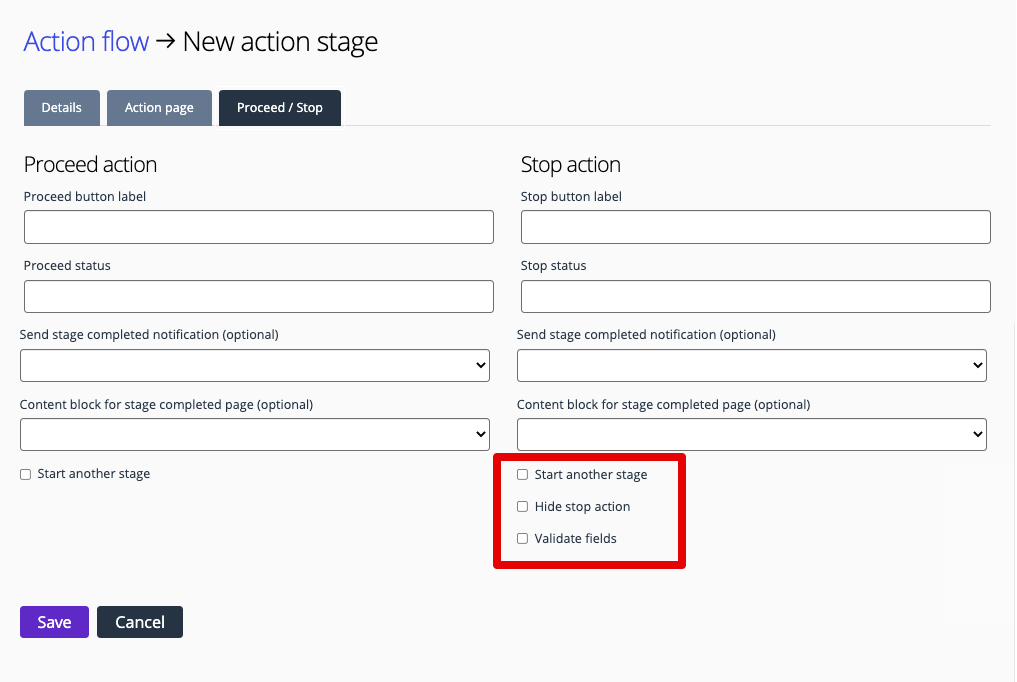 Step four: create review notifications
You can also refer to general instructions for configuring notifications.
Step five: add informational content to review pages
Go to Content > Content blocks
Create a New content block
Choose the content location Action flow page
After creating and saving your content, return to the action stage configuration to choose the content block so it can be displayed on the action page for the user to see
Tip: you can share or have different content blocks for each of your action stages— they will all have the Action flow page location but will not be used until they're selected on an action stage.
Step six: viewing and exporting action flow data
All data collected during the action flow process is stored within an application itself, but is not accessible by the applicant or applicant views like the applicant PDF. Should you need to view or export this data, you have a few options.