In Good Grants, the forms feature allows you to create unique application forms to fit your program's needs. For example, you may run multiple grants with unique field requirements.
Create a form
To create a form, follow the steps outlined below. There is no limit to the total number of forms that you can create, so repeat as necessary.
Navigate to Forms
Click the Create form button

In the 'Details' tab, provide your form a name



Tip: this name will be visible to your program's applicants.

Click Save + next
In the 'Cover' tab, upload a cover image for your grant if desired
Customise the Call to action button text that applicants will interact with

Click Next
If your program utilises chapters, select which chapter(s) this form will apply to in the 'Chapters' tab


Note: this tab will not be visible if your program does not have chapters enabled.

Click Next
In the 'Rounds' tab, click New round to create a round in which this form will accept applications or select an existing round



Tip: multiple rounds can be selected or created from this view, allowing you to accept applications periodically throughout your active season.

Save when finished
Build your form
Once you've created your form, you can begin to populate it with the appropriate categories, tabs, and fields. These elements can be created via the Settings menu (see the guides listed below) or using the form editor.
For the purposes of this article, we'll cover creating them using the form editor. You can access this by navigating to Applications > Manage applications and clicking Edit form.
In accounts with multiple forms, it is recommended that you go to Forms, click the overflow menu next to your form's name, and select Edit form as shown below.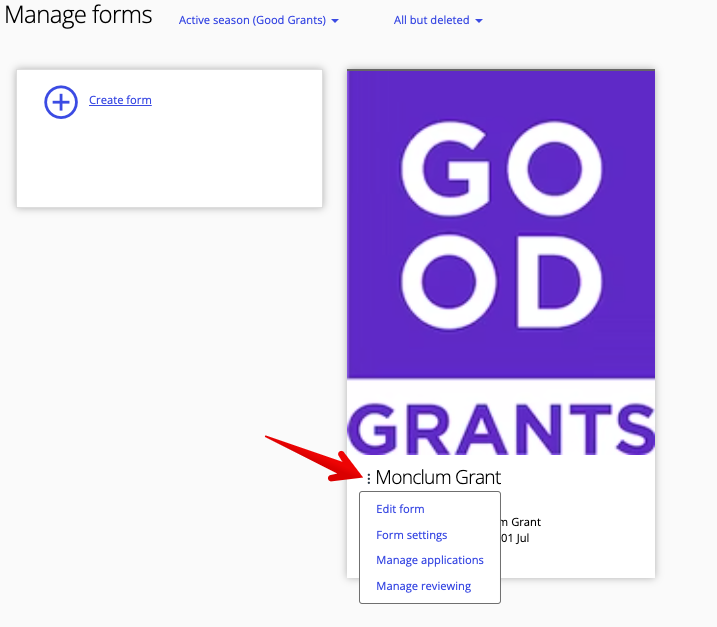 From there, you can build out your form as desired. To learn more about the form editor, see our guide: Form editor.
Reviewing with multiple forms
Your program's application reviewing can be configured by using the Settings menu or via the Reviewing fast start. Whichever route you choose to take, it's important to select your program's form when configuring your reviewing stages when multiple forms are in play.
| | |
| --- | --- |
| Location | Form selection |
| Settings > Reviewing > Score sets | |
| Settings > Reviewing > Scoring criteria (only required for Scoring reviewing) | |
| Settings > Reviewing > Rounds | |
| Settings > Reviewing > Panels | |
| Reviewing > Manage reviewing > Reviewing fast start | |
FAQ
Can I delete forms if they're no longer necessary?
Absolutely! If you have multiple forms configured, you can delete unneeded forms by following these steps:
Navigate to Forms
Click the overflow menu (3 dots) associated with your form
Select Delete

If you need to retrieve a deleted form, you can!
Go to Forms
Click the All but deleted toggle at the top of the page

Select Deleted
Click the overflow menu (3 dots) associated with your form
Select Undelete

Can I copy forms?
As of right now, forms cannot be copied. If you need multiple forms, they will need to be configured individually.