The Good Grants form editor is a powerful feature that simplifies the configuration and editing of the application form in your account. It lets you create and edit categories, tabs, and fields directly from the application form itself without the need to navigate to other areas of the platform. 
To access the form editor, open the Manage workspace, go to Applications, and click Edit form. For accounts utilising multiple forms, select the form you wish to edit from the drop-down that appears.
Tip:
alternatively, you can go to
Applications
in the
Manage
workspace and click
Start Application
. In the top right corner of your screen, toggle on
Configuration mode
.

Note: when editing the form in Configuration mode, all tabs and fields will be visible to you as the grant manager. Fields and tabs that appear greyed out are applicable only to certain categories of your program. You can update the categories to which these fields and tabs apply by clicking the settings icon. To see the form as it will appear to an applicant, toggle Configuration mode to Off and then select a particular category from the dropdown.
Tabs
When configuration mode is toggled on, you can create new tabs by clicking the + icon as shown below.

Changing the order of existing fields is easy--simply drag and drop them into your desired order.

For more detailed instructions, see our guide: Add or edit tabs with the form editor.
Fields
Similar to adding a tab, to add a new field to your application form, click the + that appears when hovering your cursor between existing fields.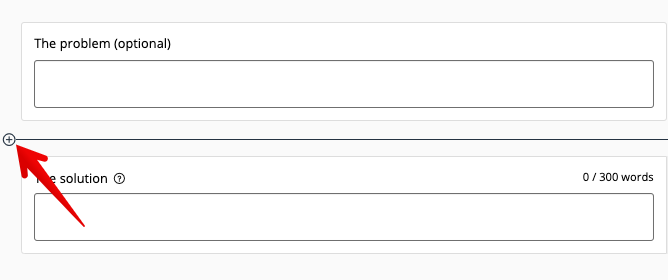 Fields can also be dragged and dropped into a new order, or even between tabs. You can learn more in our dedicated help article: Add or edit fields with the form editor.
Tip:
need several of the same field, like file uploads or similar text entry fields? Navigate to
Settings > Applications > Fields
in the
Manage
workspace to copy an existing field.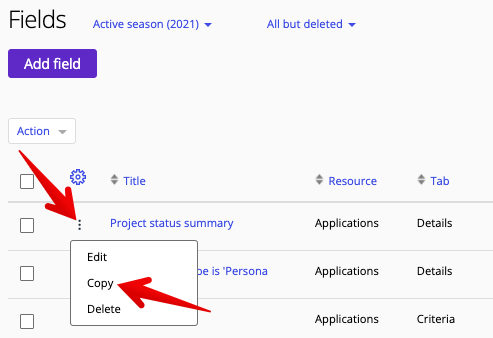 Important: editing or deleting fields after opening for entries is not recommended as it may lead to data loss.