Panels: who will appear in the reviewers drop-down
Creating a panel is an integral step of configuring your program's reviewing. When defining which reviewers will be included on a particular panel, there are two options available: 'Any users with a role' or 'Invited reviewers'.
Selecting 'Any users with a role' will display a list of all the roles available in your account and anyone with the selected role(s) will then be on the panel.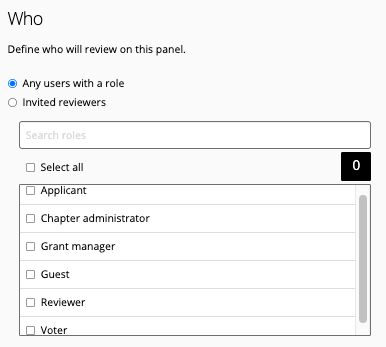 Selecting 'Invited reviewers' will allow you to search for specific users by typing in their name or using the 'Advanced' search to filter by a role.
Note:
this will only include users in the account who have a role with the 'Scores (own)' permissions set to 'Allow'. By default, the reviewer and grant manager roles have this permission already.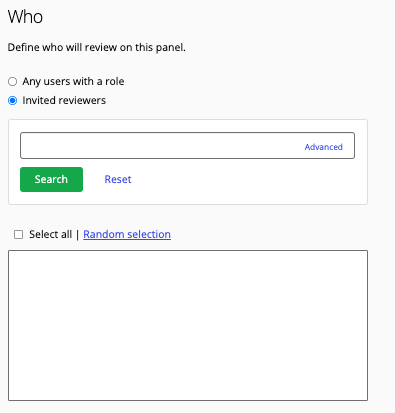 It is possible that other roles have been created or the permission settings adjusted for existing roles that require the 'Scores (own)' permissions to be set to 'Allow'. Before adjusting the settings to prevent such users from appearing in the panel list, ensure that doing so will not inadvertently disrupt another function of the role.
For more information on user roles and permissions, see our guide: Ultimate guide to user roles.