Delete and undelete users
Grant managers can delete and undelete users. This can be done via the Users section. Deleting users is only a soft-delete which means they can be undeleted if needed. If you would like to delete a user permanently, please read this help article: Permanent deletion of users.
Delete a user
Go to Users
Select the checkbox next to the name you want to delete
Click Delete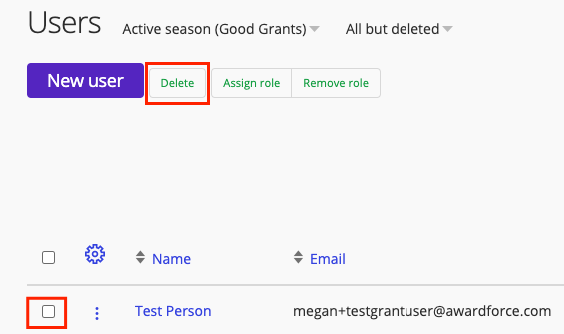 Important: a deleted user can still sign into their account. Signing in will undelete the account and restore membership.
Undelete a user
Go to Users
Change the view from All but deleted to Deleted
Select the checkbox next to the user name you want to undelete
Click Undelete
Switch the view back to All but deleted

Note: an email address registered within the Good Grants platform will be recognised, even if the user is deleted.
Note: for security reasons, only the user can change their email address. The user can log in with the incorrect email address, click on their name in the top right corner and then Profile to change their email address and/or password.
Read more: User accounts and program connections