Add or edit fields with the form editor
With Good Grants Form editor, adding or editing fields in your application form has never been easier. To begin, navigate to Applications > Manage applications and click Edit form. For accounts utilising multiple forms, select the form you wish to edit from the drop-down that appears.
Tip:
alternatively, you can go to
Applications > My Applications
and click
Start Application
. In the top right corner of your screen, toggle on
Configuration mode
.
Add a new field
To add a new field to your form, hover with your mouse in the position you want the new field to appear and click the + icon. For more information on fields, see Field configuration.

Tip:
need several of the same field, like file uploads or similar text entry fields? Navigate to
Settings > Applications > Fields
to copy an existing field.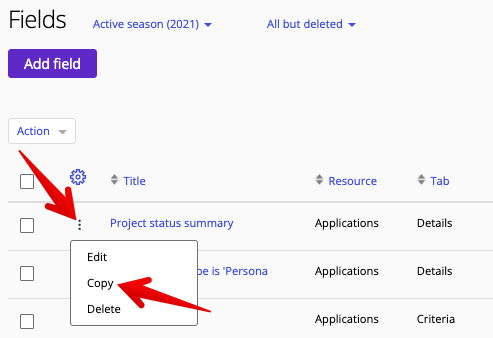 Edit an existing field
To update the field settings like the label or hint text, hover with your mouse over the field and click the settings icon.

Important: editing or deleting fields after opening for entries is not recommended as it may lead to data loss.
Move existing field
To reorganize your fields within the same tab, click and drag them into the desired order. To move a field from one tab to another, click and drag the field up to the tab you want to move it to then drag it into position on the new tab. See also Can I change the order of categories and fields?
Note: fields that appear greyed out are applicable only to certain categories of your program or are conditional fields. You can update the categories to which these fields by clicking on the settings symbol.