Good Grants allows account owners to create contracts which can be assigned to successful applications and signed by applicants.
Create a contract
To create a new contract template, follow these steps:
In the Manage workspace, navigate to Grants > Contracts
Click New contract template
Provide a title for your contract
Add your contract text to the Content field, employing Markdown formatting or merge fields if desired
Click Save
Tip: you can create as many contract templates as you like.
Assign a contract to an application
When you're ready to assign a contract to a successful grant recipient, follow these steps:
From the Manage workspace, go to Applications
Click the name or ID of the application you want to add the contract to
In the manager's view, open the 'Grant' tab
Click Add contract under the 'Contracts' heading

Open the drop-down and select your desired contract

Tip: contracts can also be assigned directly from the Applications view of the Manage workspace. Simply click the overflow menu (three dots) associated with the application and select Add contract.
Sign a contract
Once the contract has been saved to the application, it will add a Sign contract button to the applicant's view in the Apply workspace at Applications.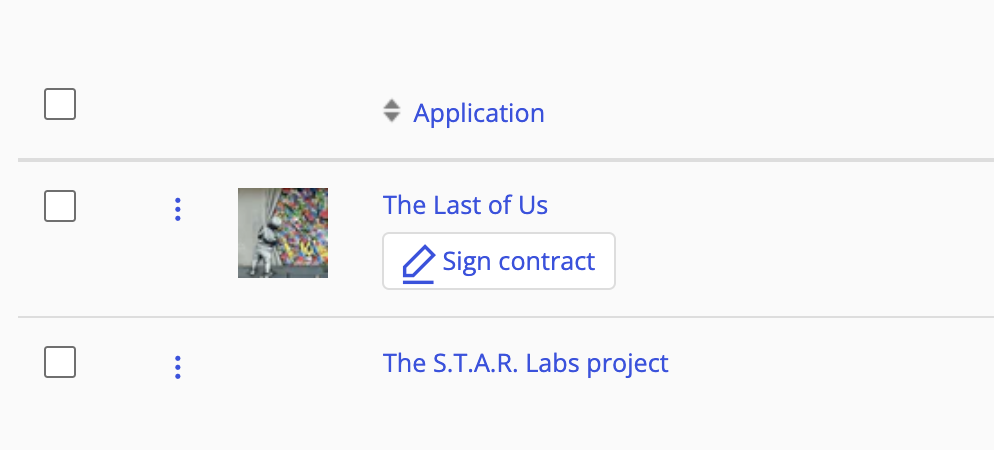 The applicant can read and sign the contract by either drawing their name using their mouse or trackpad on the Draw tab, simply typing in their name using the Type tab, or by uploading a previously created signature in the Upload tab as shown below.
A timestamp for when the contract is signed will appear in the user's profile page along with a link to a PDF of the contract.
Manage current contracts
To view a list of all active contracts, both signed and unsigned, navigate to Grants > Contracts. From this location you can also:
Remove a contract
Important: if you delete a contract content block signed contracts with that block will not be deleted. Additionally, signed contracts cannot be deleted.
In the Manage workspace, navigate to Applications
Scroll to the 'Contracts' box
Click the overflow menu (three dots) next to the contract you'd like to delete
Delete