Application confirmation page
The submission confirmation page is a great way of informing your applicants that their application has been successfully submitted into your platform. This page is optional but may be edited or configured from the Manage workspace via Settings > Content > Content blocks. Simply look for the submission completed content location for existing blocks or create your own.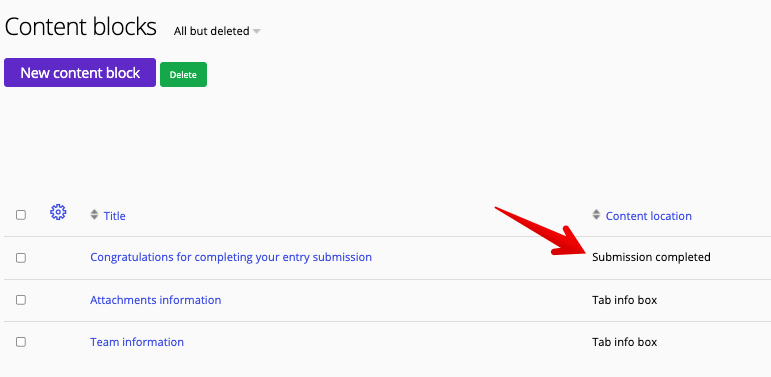 If no content block is configured for the location, the page is skipped. An applicant that submits in this scenario is routed back to their Applications page in the Apply workspace.
When there is a content block configured for the location, the application confirmation page automatically displays to the applicant after a successful submission
Tip: to preview the page content, you can go directly to yourprogram.grantplatform.com/entry/entrant/complete
Social sharing
By default, five social sharing icons are displayed on the application confirmation page, encouraging applicants to share the fact they have just entered your program. Which social networks/tools and their order are not fixed— they depend on the individual's social media behaviour, with the expected most relevant options being automatically displayed, in order to maximise likelihood of engagement. To learn more, see our guide: Social sharing configuration.