Show/hide fields for reviewing
You have the ability to remove the visibility of certain fields from reviewing modes. For example, you may not want to display contact details to reviewers or the general public during voting. To turn off the visibility:
From the Manage workspace, go to Reviewing > Settings > Score sets
Click on the score set title that you would like to hide the field from
Select the 'Display' tab
Deselect the fields within the 'Visible' column

Click Save
Note: fields added to your application form after a score set has been configured will not appear by default. If you add more fields in the future, you will need to make them visible within your score set.
Show/hide attachments
If you'd like reviewers to see some attachments but not others you can add fields to the attachment. This is helpful when you want to associate some extra information with the attachment.
To do this
In the Manage workspace, navigate to Applications and click Edit form
Open your attachments tab
Hover your cursor inside the small white box and click the + symbol when it appears

In the configuration tray that displays on the right side of the screen, select Drop-down list from the Field type drop-down
Provide a Label (seen by applicants) for your field
Populate a Short title to be used in error messages and backend reporting
In the Options area, add the labels you'd like your applicant to choose from, i.e. Company logo or Letter of Recommendation
Under the Categories heading, choose whether the field is applicable to all categories or just some
In Access, select if the field is required
Save when finished
For every attachment the applicants upload, they will have the option to select one of these field types.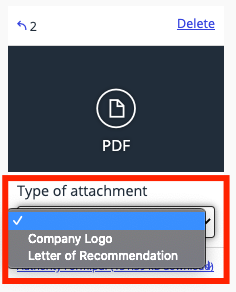 The advantage of this is you'll be able to show or hide specific attachment field types from reviewing. From the Manage workspace, go to Reviewing > Settings > Score sets and open a score set for editing. Then select the 'Display' tab and under 'Attachments' select which types you'd like to display.