Manually trigger an action stage
If your review stage is not automatically triggered by application submission, you can manually trigger it. You might decide to use this feature if you'd like to trigger the review stage at a specific time in the future.
Manually trigger review stage
Go to Applications > Manage applications
Apply an Advanced search filter. You might want to filter by Category, Status: Submitted or by a Tag
Tick the boxes on the left of the applications you want to trigger the review stage for
Click Action
Select Initiate action stage
Choose the correct stage and click Initiate action stage...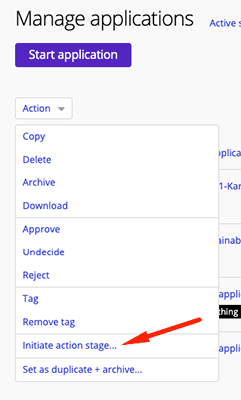 Learn more about review flow here: Action flow configuration