Galleries can be used to display a select set of applications to registered users or publicly. As galleries are not limited to a season, they can be used to display archives of applications with ongoing visibility.
Whilst not directly part of reviewing functionality, galleries are an outcome of reviewing and are configured in a very similar way, in 3 steps:
Create a gallery score set
Create a panel that defines who can access the gallery and which applications are included
Adjust role permissions of the gallery audience if necessary; i.e. if applicants or guests are selected in the panel
For logged-in users, a correctly configured gallery will appear in the navigation menu. After following all the steps, be sure to refresh the page to be able to see it. If you have only one gallery configured, it appears in the menu with the score set name. If there is more than one gallery, they are each in a sub-menu, below a 'Galleries' heading.
For a public gallery, you can send visitors directly to a gallery URL. You might include a link from the login page content block to your public galleries.
To configure a gallery, you can follow the steps below or simply utilise the reviewing fast start.
Create a gallery score set
In the Manage workspace, go to Reviewing > Settings > Score sets
Create a New score set
Name the score set— this name will be used in the menu to navigate to the gallery
Choose the Gallery reviewing mode
Start and End dates/times for the gallery are optional


Note: if you do not set a start time, it is 'open'. If you do not set an end time, it remains open indefinitely.

Commenting is optional, but can only be activated for registered users


Note: anonymous commenting by unregistered users is not supported, to avoid spam and trolling.
Create a gallery panel
From the Manage workspace, go to Reviewing > Settings > Panels
Create a New panel
Give the panel a meaningful name
Set Gallery reviewing mode and select the gallery score set you have just created
Define the Applications to be included in the gallery by limiting to set chapters, categories and tags
Define Who will be able to see the gallery, this can be: specific individuals with a reviewing role, any users with a specified role, or the general public by choosing the guest role
Making a gallery public
If you want a gallery to be visible to anybody (i.e. public), without logging in to your program, you would have set the panel above to be available to those with the guest role. All accounts come with a guest role by default. Check that the guest role is configured with the appropriate permissions for a public gallery, which are similar to those for public reviewing:
In the Manage workspace, go to Settings > Users > Roles
Find and go to the guest role
Click Advanced near the top of the page

The check box Guest account role for anonymous users should be checked
Set the Scores (own) View permission to Allow
Save
Note:
public galleries will be visible on your program's login page as shown below.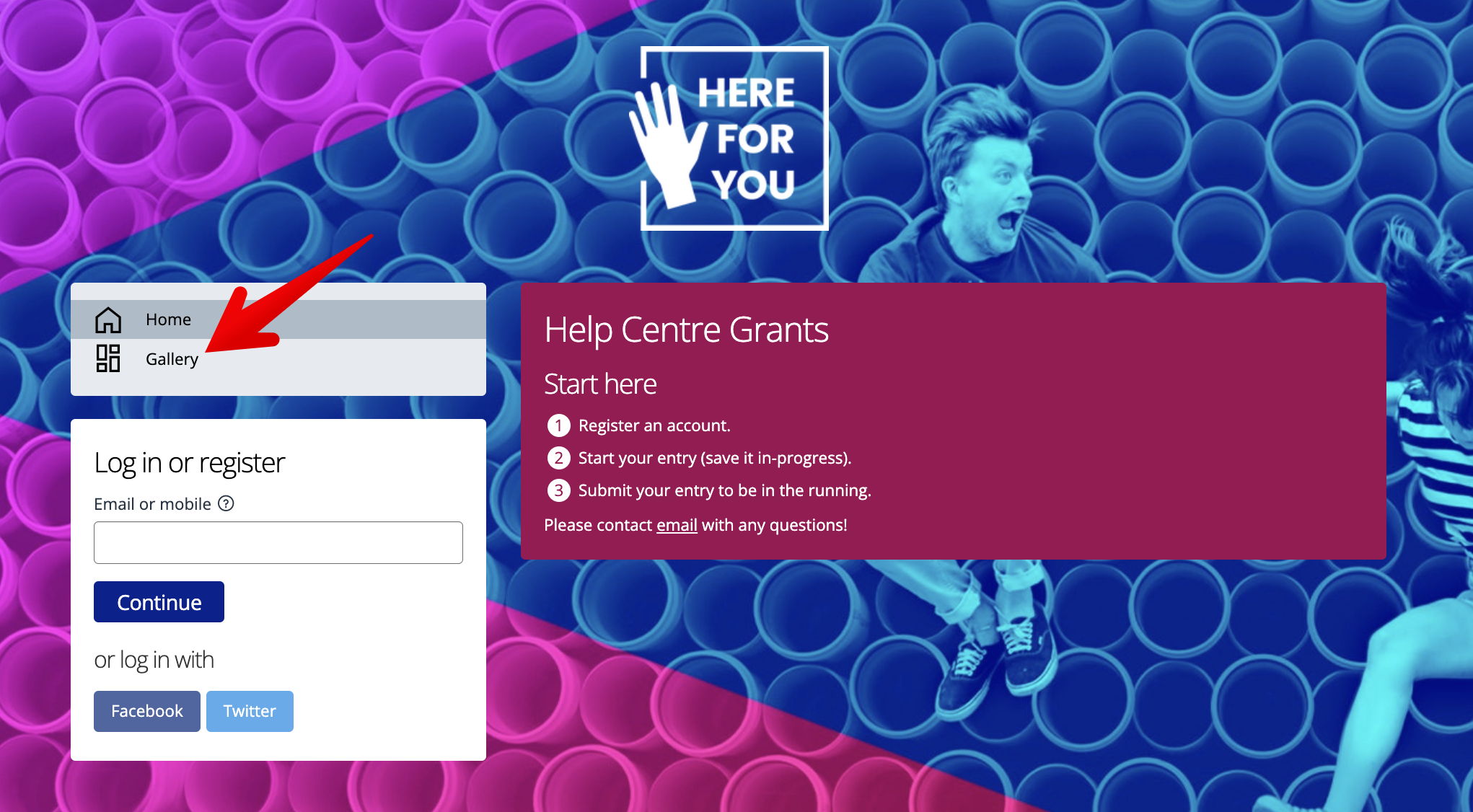 Video overview