Your program may require applicants to send in a physical product as part of their online application. To make it easier to keep track of the physical product with the online application form you can configure a packing slip, which applicants can download and print.
Configure packing slip
Packing slips are configured on a per category basis. This configuration allows you to create different packing slips for each category.
Go to Settings > Applications > Categories
Click on the name of a category
Go to the 'Delivery' tab and select the PDF packing slip available for submitted applications in this category checkbox


Add the Packing slip instructions and use any relevant merge fields
Click Save
Download packing slip
For Applicants
Applicants can download the packing slip under My applications. A button to download the packing slip will be available underneath the application.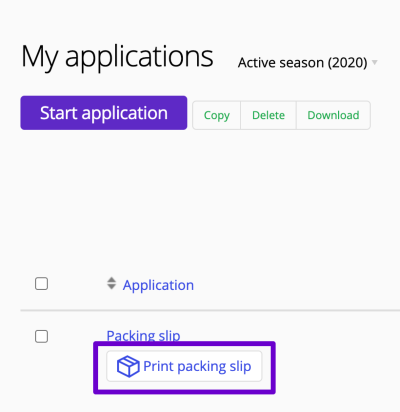 For grant managers
Grant managers can download the packing slip under Manage applications by clicking on the applications and then Packing slip.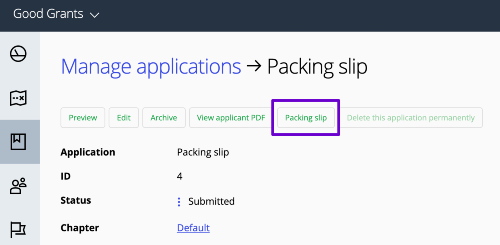 Note: packing slips are only available for submitted applications.
QR code
Each packing slip has a QR code which can be scanned using your smartphone. When the QR code is scanned, you will be directed to the application within your account under Manage applications.
As an example, when you receive the physical product, you can scan the QR code on the packing slip, which will then direct you to the application. You can then tag the application to say the product has been received. See Tag applications.
If you don't have a QR scanner on your smartphone, you can download one from your device's app store.