Configuring a category within Good Grants is a straightforward process that can be as simple, or as detailed, as you need. Below you'll find the steps necessary to create a category as well as a breakdown of the options you'll encounter along the way. You might create categories for the different grants, funding streams, or granting cycles included in your program.
Create a category
Open the Manage workspace, navigate to Applications, and click Edit form

Hover your cursor over the Category drop-down and click the +

In the configuration tray, assign a Category name
If desired, add a Description to provide your applicants with instructions or category information


Tip: category descriptions support Markdown formatting, allowing you to add bold, italics, links, or more.

A Shortcode will automatically be generated using the first 32 characters of your field's label and must be unique


Note: each application is given a numeric ID unique to the account and has the shortcode appended (e.g. 123-AB) so that when tracking, arranging, and managing applications, you have an easy handle on the application's category.

If your category should be available to applicants, select the Category is active checkbox; leaving this option unchecked prevents applicants from viewing or creating submissions for this category (see: Prevent application creation in a category)
Choose whether you would like to Display category on public home page (see: Ultimate guide to home page configuration)


Tip: if this category has a parent category, you can choose to inherit the setting from the parent category.

When finished, click Save
Tip:
after saving, you can edit a configured category by hovering your cursor over it and selecting the settings icon.

Additional configuration options
Images
When configuring a category, the 'Images' section allows you to upload category sponsor logos

The logos appear in a vertical column on the right side of the page when creating/managing an application as seen in the screenshot above
Strictly speaking, category images can be anything, they don't have to be sponsor logos
A heading (such as "Category sponsors") can also be defined to display at the top of the column of images
Setting a maximum image width constrains the width images are displayed at
If images are larger than the maximum width, they are automatically downsized
If images are smaller than the maximum, they remain at their original size
Note: category images are available to clients on the Premium plan and above
Advanced
The 'Advanced' section allows you to create an optional maximum number of applications per applicant within this category
An Application name label can be assigned that is unique to this category, i.e. Grantee's name
You can choose to pre-fill the applicant's name into the application name line
Divisions
Divisions are entirely optional but are used to break a category down into smaller groups of applications for assignment to reviewers, via panels. Your program's applications are automatically and randomly assigned into the divisions that you've created.
Please note:
If divisions are created after applications have closed, the divisions are fairly even in number given that the number of applications is directly divisible by the number of divisions (ex: 100 applications / 4 divisions = 25 applications each). In the even that the number of applications is not divisible by the number of divisions, there will be some discrepancy between divisions (ex: 101 applications / 4 divisions = three divisions of 25 applications and one with 26 applications).
If more divisions are added after you've started collecting applications, those newly submitted applications are placed randomly among the divisions.
Selecting the Reassign applications to divisions on save checkbox and then clicking Save on the category will ensure that applications are divided as evenly as possible across the number of divisions. Reassignment can be forced at any stage.
It is strongly recommended NOT to alter divisions after reviewing has begun. Doing so may result in stray scores.
Delivery
Allow for a PDF packing slip to be available for submitted applications. For more information, contact us
Display category on public home page
If you'd like to feature your category with a link to apply on your program's login page you can! Just follow these steps:
In the Manage workspace, go to Settings > Applications > Categories
Click your desired category
Select the Yes radio button under the 'Display category on public home page' heading
Save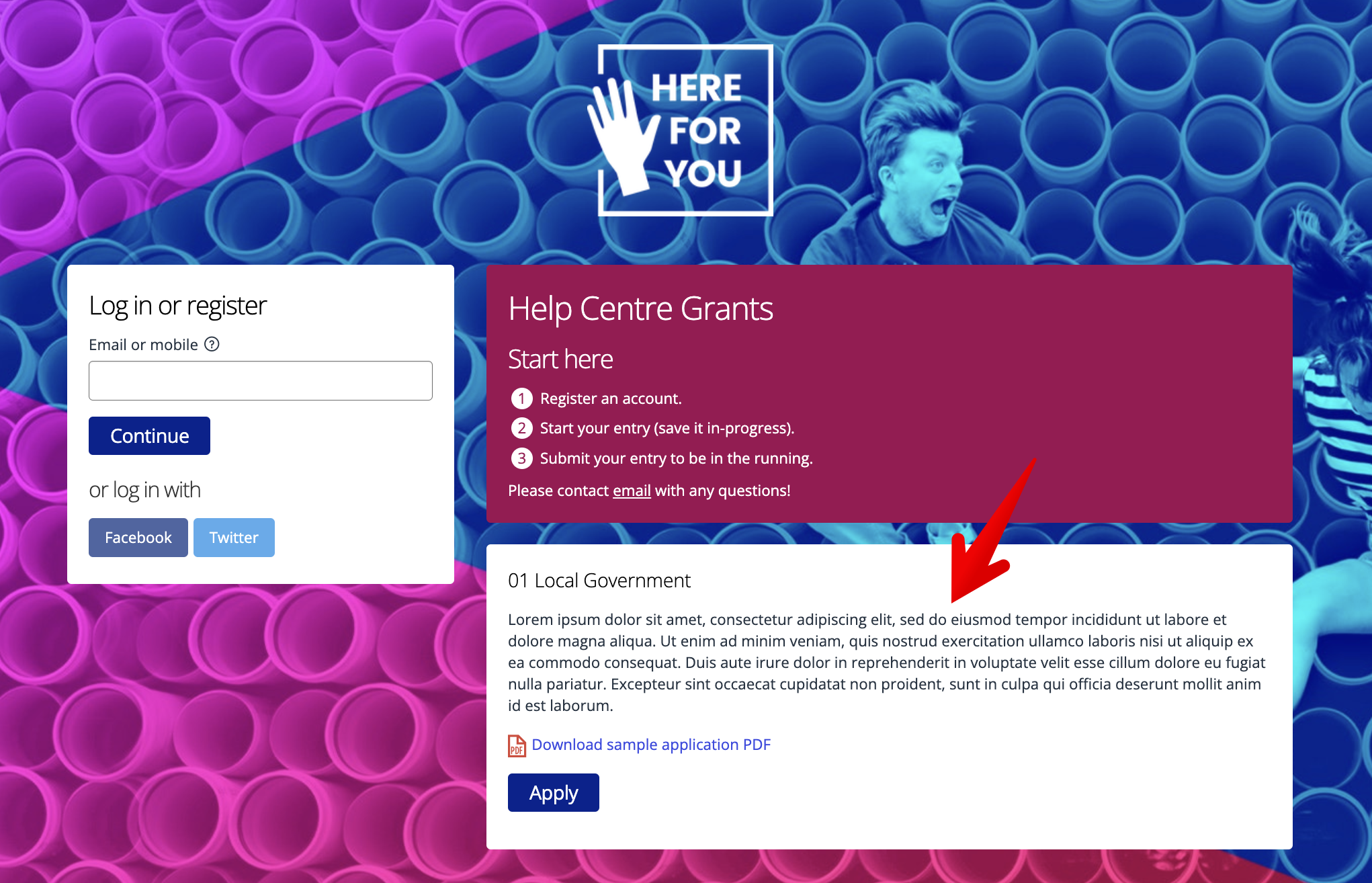 Video overview