The Form editor is a powerful feature for Good Grants that greatly simplifies the setting up and editing of the application form in your account. It lets you create and edit fields and tabs from the application form itself without having to visit Settings > Applications > Fields or Settings > Applications > Tabs. You can also move fields and tabs around using drag and drop.
How the Form editor works
Click Start application either from Manage applications or My applications. You can also do it via Settings > Applications > Form editor
In the top-right corner of your screen, toggle Configuration mode to ON

Tabs
When the configuration mode is enabled, you can create new tabs by clicking the + icon to the right of your existing tab/s.
You can change the order of your existing tabs by clicking and dragging them into the desired position.

You can edit the tab settings by hovering your mouse over a tab and clicking the settings icon.

Fields
To add a new field to your form, hover with your mouse in the position you want the new field to appear and click the + icon.

To reorder your fields within the same tab, click and drag them into the desired order.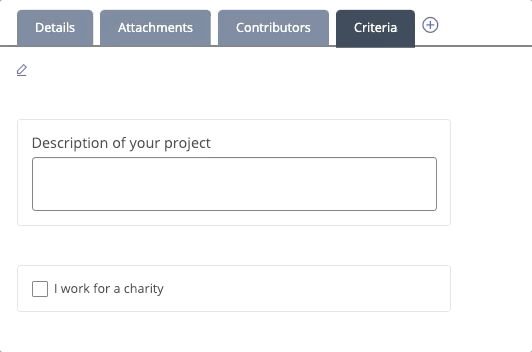 To move a field from one tab to another, click and drag the field up to the tab you want to move it to then drag it into position on the new tab.
Note:
when editing the form in
Configuration mode
, all tabs and fields will be visible to you as the Grants manager. Fields that appear greyed out are applicable only to certain categories of your program or are
conditional fields
. You can update the categories to which these fields belong by clicking the settings icon. To see the form as it will appear to an applicant, toggle
Configuration mode
to
Off
and then select a particular category from the dropdown.

Deleting fields and tabs
To delete a field or tab click the settings icon and then click the Delete button at the top left of the page.


The Form editor allows the Grant managers to edit and create the form faster; applicants only see the final result. However, if you are testing from My applications, you will be able to work toggle the configuration mode to On from there too.