Add a content block to a tab
Adding a content block to a tab of your application form is easy! Simply follow the steps below.
Step 1: Create content block
Go to Settings > Content > Content blocks
Click New content block
Under Location, choose Tab info box
Add your content and click Save
Step 2: Assign content block to tab
Go to Settings > Applications > Tabs
Click on the tab name
Under Content block, choose the content block you just created.
Click Save
You can also create a content block for a specific tab by clicking the pencil icon while on that tab in the application form itself: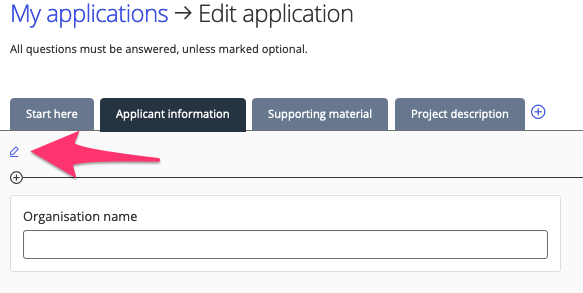 Clicking the pencil icon will bring you directly to the edit screen for the content block and, once saved, the new content block will appear on the specific tab automatically, without having to complete Step 2 above.
The new content block will be available in the list under Settings > Content > Content blocks for future editing or you can simply click the pencil icon again from within the entry form to access the content block and make changes.