Why can't reviewers see any applications?
You have assigned applications and notified your reviewers but they can't see any applications. Here are some possible reasons why:
1. The review round is not open. Dates for review are set at Settings > Reviewing > Rounds and if the start date/time is in the future, reviewers will not be able to see applications until that date/time. Take note of the timezone setting as well.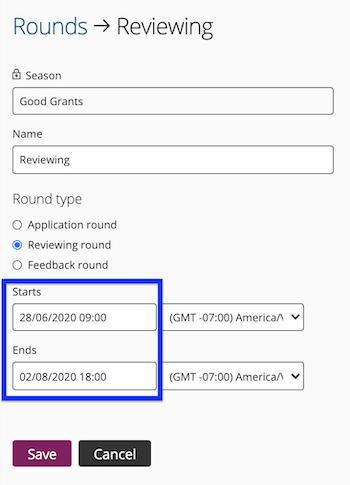 2. Check the panel and ensure it has applications. You can see if applications are assigned by checking the table view at Review > Panels.

If you see 0 (zero applications) then a setting has been missed in your panel settings or there are no submitted applications.
Open the panel and make sure one or more reviewers are selected, the round is selected, and also one or more categories and chapters are selected. If any of these elements have not been selected, then your reviewers will not see anything.
Tip💡: You can add yourself to a panel to test what reviewers will see. When you have finished testing, simply remove yourself from the panel and resave it.
If applications have been assigned manually, then check Review > Assignments to make sure you have assigned them to the right reviewers.
3. Check for submitted applications in the category the reviewer is reviewing.
Go to Applications > Manage applications, click the Advanced button at the top right, then filter for the category and for Submitted applications. Then click Search. If there are no results, then there are no submitted applications in the category.
4. Check which email address the reviewer is using to sign in. Some users have multiple email addresses and accounts but the reviewer user role is only added to one. Make sure the account with the reviewer user role matches the account the reviewer has signed into.
5. If you have checked all of the above and applications are still not visible, then ask the reviewer to perform a hard refresh in their browser window. They might be viewing a cached page which a refresh can fix. The browser can be forced to refresh by holding down the shift key on the keyboard and clicking the refresh button in the browser.